NPMC Hosts Hot Springs Sweethearts for Cardiac Cath Lab Tour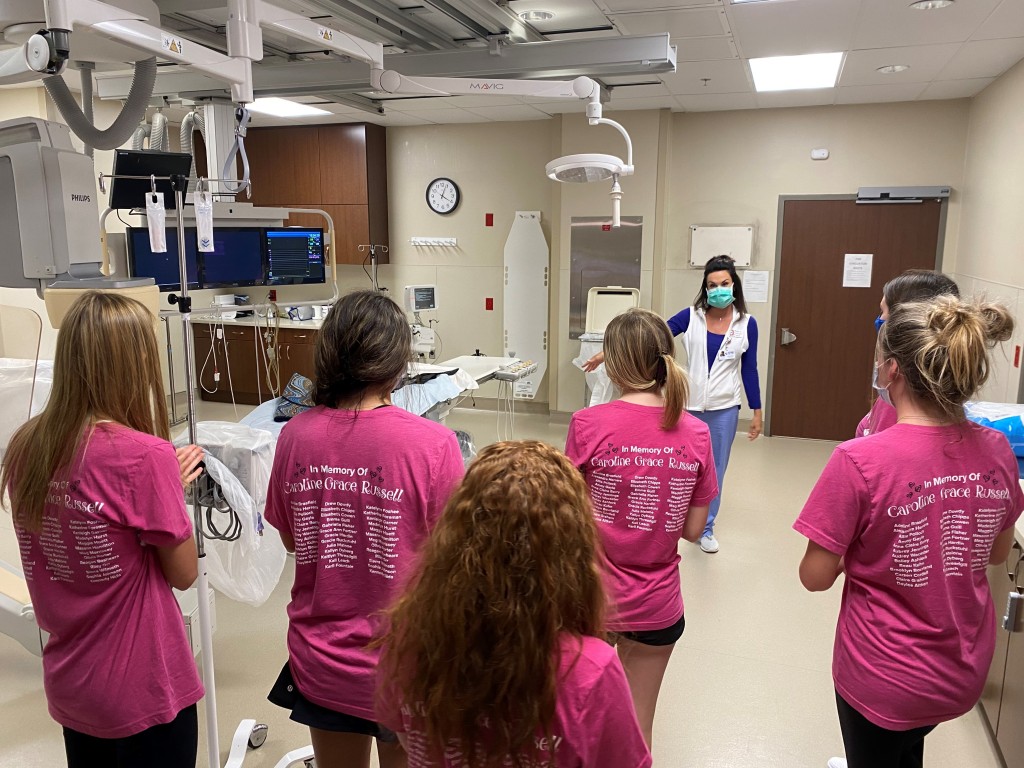 National Park Medical Center (NPMC) welcomed the Hot Springs Sweethearts to their Heart and Vascular Center last week to tour the cardiac catheterization (cath) labs. Over the course of three afternoons, small groups of Sweethearts had the opportunity to learn the inner-workings of the cath lab and to learn more about why patients might require cath lab intervention due to heart disease or symptoms.
"This tour is always a highlight of the Sweethearts program, so we were excited to welcome the groups safely and in-person this week," said NPMC's Director of Marketing and Communications, Mandy Golleher.
The Hot Springs Sweethearts are a group of high school sophomores and juniors from the Garland county area who spend the program time period devoted to heart-healthy lifestyles and learning about cardiovascular disease. Sponsored by National Park Medical Center, the Sweethearts have been busy fundraising for the American Heart Association and having fun with special events. Most events were very different for this year's group of Sweethearts due to the COVID-19 pandemic. While there was not an opportunity to volunteer inside the hospital, the Sweethearts found unique ways to uplift hospital employees, support patient programming and brighten experiences for hospital patients. From hand-made comfort pillows to hand-beaded bracelets with inspirational messages, many Sweethearts used their creativity to support patients and staff. Others helped by assembling patient packets, bringing snack packs to employees, or writing notes of encouragement and thanks to staff members.
"We are so proud of this group of resilient and creative young women who despite the challenging times and limitations to protect our Sweethearts, patients and communities, have found ways to volunteer their time and talents to bring hope and smiles to our patients and staff," said Golleher.
Many Sweethearts also attended a series of virtual seminars led by physicians and healthcare professionals that gave them insight into different healthcare careers including cardiovascular surgeon, Dr. Daniel McCoy; pediatrician, Dr. Jessica Cannon; ER and surgical nursing, respiratory therapy, radiology and more. "Several of our Sweethearts have an interest in medical careers – one even aspires to be a cardiovascular surgeon – so we were excited for them to have the opportunity to learn virtually and then safely welcome them in-person to the cath lab tour," added Golleher.
Additional Sweetheart activities and events have included a tour of the Survival Flight-10 EMS helicopter at NPMC, Infant and Adult CPR Certification and Automatic Electronic Defibrillator (AED) training, a father-daughter BBQ, a mother-daughter luncheon, a cardiovascular fitness day and more. The culmination of the program is the Hot Springs Heart Ball, where the Sweethearts will be presented by their fathers at the virtual event. On the night of the Heart Ball, which is chaired this year by Dr. Eric and Lori Bowen and scheduled for June 12, the one Sweetheart who scores the highest in the program through volunteerism and fundraising will be named "Sweetheart of the Ball" and awarded the $2,000 Caroline Grace Russell Memorial Scholarship and a piece of custom "sweetheart" jewelry by Lauray's The Diamond Center.
In Photo: Cardiac Cath Lab Tech Christy Connie RT(R) explains the process of preparing a patient for cardiac catheterization to a group of Hot Springs Sweethearts in one of the National Park Medical Center cardiac cath labs.
Read All Posts