The following organizations provide discount or free mammograms to those who qualify: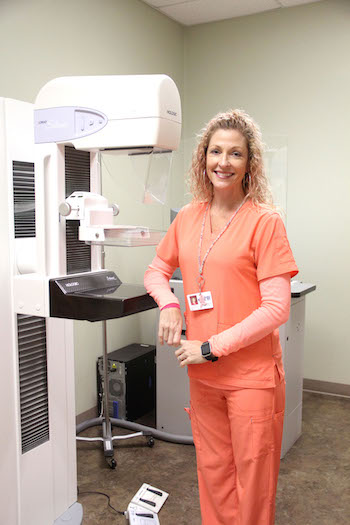 What is 3D mammography?
3D mammography is a type of digital mammography which uses advanced technology to take images of your breast from different angles and combine them to create a more complete and accurate image of your breast than is possible with regular 2D digital mammography.
3D mammography follows the same basic procedure that you're probably accustomed to with regular 2D digital mammography. 3D lasts just a few seconds longer, slightly extending the time of minor discomfort you may feel and the low-risk radiation exposure involved with all forms of digital mammography.
Why should I get a 3D mammogram?
The more complete and accurate image of your breast generated by 3D mammography allows us to detect breast cancer earlier and more effectively than traditional 2D mammography, so that we can take action to help you fight.
3D mammography is particularly effective if you have dense breast tissue or have been given a previous cancer or lesion diagnosis.
And 3D mammography's higher accuracy means less unnecessary return visits to the doctor for false positives that turn out to be non-cancerous.
What does all of that mean for you? Greater peace of mind.
How can I get a 3D mammogram?
To schedule a 3D mammogram, give us a call at (501) 620-2360.
When you take control of your preventive health, we're in a better position to work with you to detect any issues that arise and to help you fight them every step of the way.
Be your own 'breast friend,' and schedule your 3D mammogram today.
Stereotactic Breast Biopsy
NPMC also offers Hologic's Multicare Platinum Prone Stereotactic Breast Biopsy System. This advanced breast biopsy table offers the latest advancements in stereotactic technology for more precise characterization of calcifications, masses and architectural distortions.
The Breast Center is staffed by registered mammographers who provide personalized patient care supported by some of the latest technology for breast healthcare.