The Heart and Vascular Center of Central Arkansas The Heart and Vascular Center of Central Arkansas creates a heart care epicenter at National Park Medical Center, and it is the largest, most comprehensive freestanding cardiac facility in the region, combining Outpatient, Inpatient, and critical care in one heart center while also connected to a full service acute care hospital. Now, with the addition of cardiac electrophysiology, the Hot Springs area has access to even more comprehensive heart care closer to home.
Take a Heart Health Assessment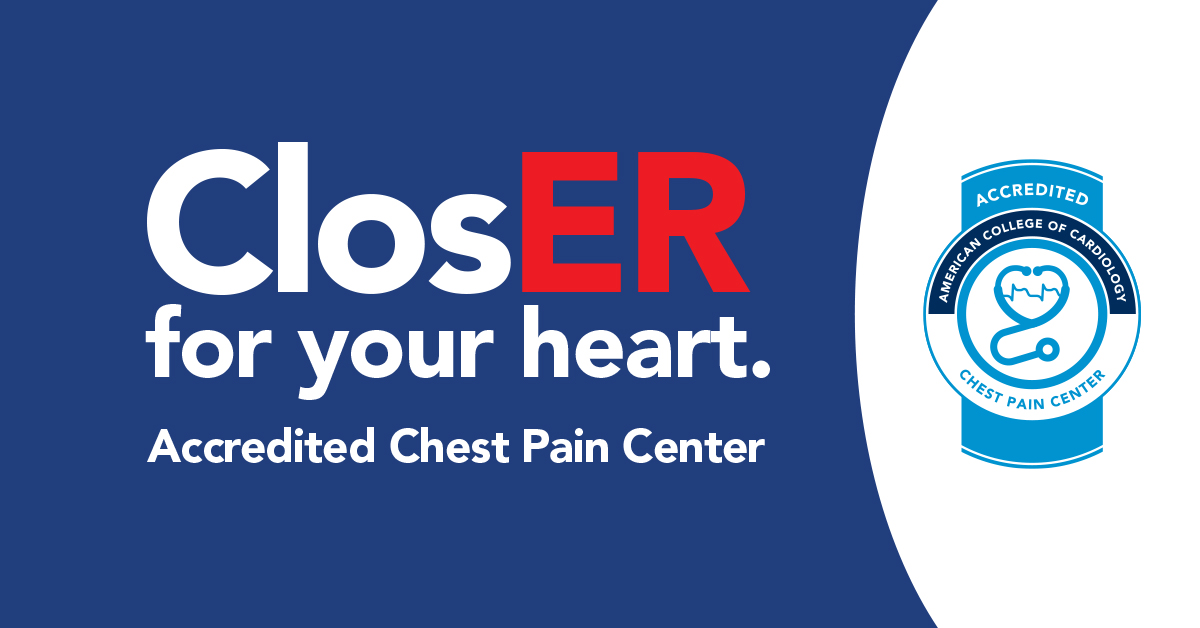 Heart attacks can happen anytime, anyplace -- and to anyone. And when they do, every minute matters.

The American College of Cardiology has recognized National Park Medical Center for its demonstrated expertise and commitment in treating patients with chest pain. NPMC was awarded Chest Pain Center Accreditation based on rigorous onsite evaluation of our team's ability to evaluate, diagnose and treat patients who may be experiencing a heart attack.
Heart disease is the leading cause of death for men and women in the U.S., responsible for one in four deaths, according to the Centers for Disease Control & Prevention (CDC). But it doesn't have to be. Through education and early treatment, heart disease can be successfully treated and, in many cases, even prevented.

The most common symptom of a heart attack for both men and women is chest pain or discomfort. However, women are more likely to have atypical symptoms. Other heart attack symptoms include, but are not limited to, tingling or discomfort in one or both arms, back, shoulder, neck or jaw; shortness of breath; cold sweat; unusual tiredness; heartburn-like feeling; nausea or vomiting; sudden dizziness; and fainting.
The good news is that everyone can lower their risk of heart disease by knowing these early signs of heart attack and practicing good preventive habits, including exercising regularly, eating a nutritious diet, avoiding smoking and controlling your blood pressure.

If you or someone you know experiences symptoms of a heart attack, contact 911 immediately or proceed to the nearest emergency room or Accredited Chest Pain Center.
Next Steps
Call 911
If you are experiencing a medical emergency, click to call 911.
Call 911
Making heart health a priority
Heart health is about more than just your heart. Blood pressure, cholesterol, family history and other factors all play important roles in keeping your heart strong. If you have questions about your heart health but aren't quite sure where to begin, start with a heart health assessment and learn more about any risks you may have for heart-related conditions. Your journey to a stronger heart starts here.
Take a Heart Health Assessment
Save a Life! Arm yourself with knowledge on what to do in a cardiac emergency.
Early Heart Attack Care
Hands Only CPR
AED Training
Watch More Videos
Entrance & Parking
The Heart and Vascular Center is connected to National Park Medical Center, but has a separate entrance and parking area, located off Hollywood Avenue. The center creates a third floor at NPMC, but is also at ground level.
Registration Desk & Family Waiting Area
Upon entering the Heart and Vascular Center, patients and guests are greeted by a welcoming registration and waiting area specifically for patients and guests of the Heart and Vascular Center of Central Arkansas. This will include:
Cardiac Cath Lab Patients
CVICU Patients
Cardiac Rehab Patients