NPMC Welcomes Orthopedic Surgeon, Dr. Brandon Byrd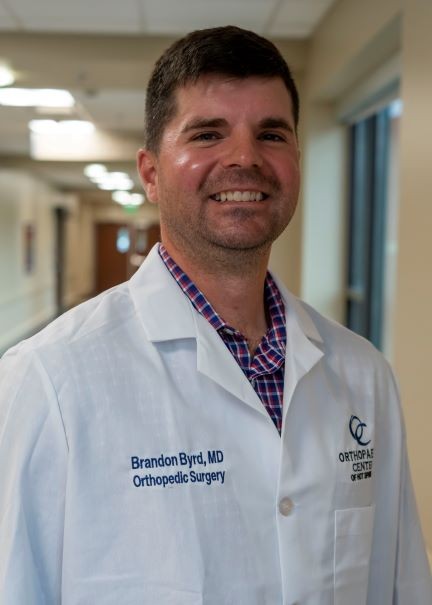 National Park Medical Center recently welcomed Brandon Byrd, M.D., to its medical staff and will be offering orthopedic services to patients throughout Hot Springs and the surrounding area. Dr. Byrd comes to Hot Springs from the Jonesboro area where he was in orthopedic practice for the past 8 years.
"Dr. Byrd is a great addition to our already very strong group of orthopedic surgeons," said NPMC's CEO, Scott Smith. "Being in a community rich with outdoor activities, orthopedics is a key service line for our region's healthcare needs. The addition of Dr. Byrd helps to ensure that we are continuing to fulfill our mission of Making Communities Healthier."
Dr. Byrd is an Arkansas-native and was already quite familiar with his practice partners, having served in the Army Reserves with Dr. Michael Hubbard, and having attended both medical school and residency alongside Dr. Brent Lawrence. He practices the full scope of orthopedic medicine including surgical and non-surgical treatments for joint pain and arthritis, fracture care and sports medicine.
Dr. Byrd received his undergraduate degree from Lyon College where he also played basketball. He then received his medical degree from the University of Arkansas for Medical Sciences. He completed his residency at the University of Oklahoma Health Sciences Center in Oklahoma City where he spent a year as chief resident.
Dr. Byrd is accepting new patients at the Orthopaedic Center of Hot Springs. For a referral or to schedule an appointment, call (501) 321-0555
About National Park Medical Center
National Park Medical Center is a 163-bed full-service acute care hospital located in Hot Springs, Arkansas. Our mission is simple: Making Communities Healthier. We are a part of the LifePoint Health family of hospitals, which means we aim to create a place where people choose to come for healthcare, physicians want to practice, and employees want to work. Our core values are honesty, integrity & trustworthiness, inclusion, compassion and legal/ethical compliance. Our hospital's Joint Commission accreditation powerfully demonstrates our commitment to meeting the highest national standards for quality and safety.
Read All Posts