National Park Medical Center Uses New Cardiovascular Surgery Suite to Expand Heart Care for the Region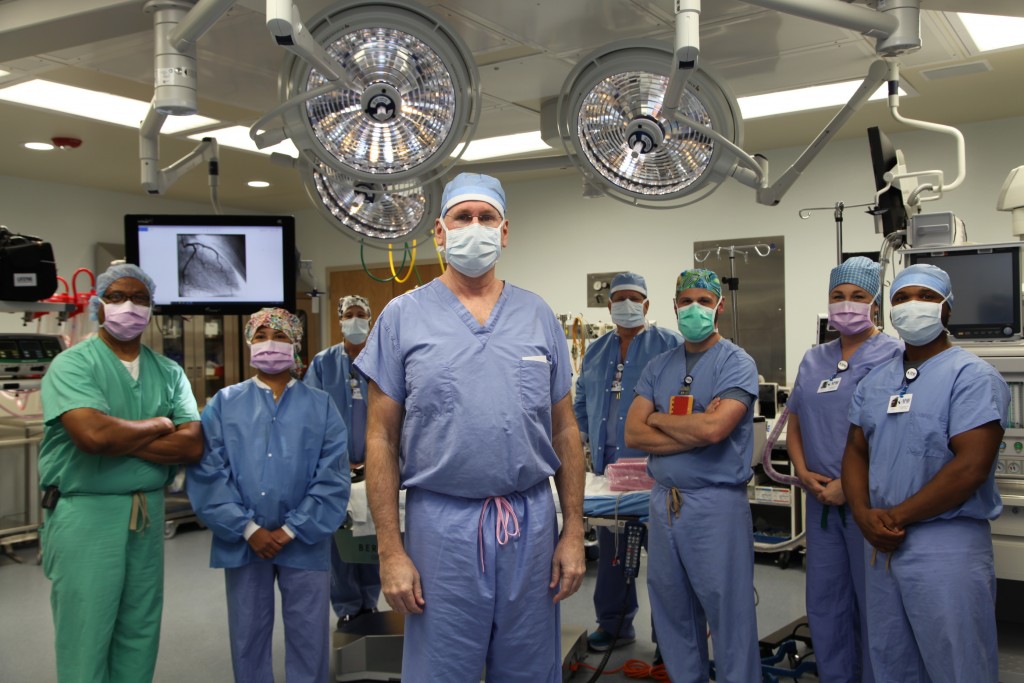 Expansion of The Heart and Vascular Center of Central Arkansas Now Offers ALTO® Abdominal Stent Graft System to Patients to Treat Abdominal Aortic Aneurysms
Last year, in the midst of the COVID-19 pandemic, National Park Medical Center (NPMC) opened a new cardiovascular surgery suite as part of The Heart and Vascular Center of Central Arkansas. The operating suite is used to perform a variety of heart procedures, including bypass surgeries, heart valve repairs and replacements, minimally invasive and open aortic aneurysm repairs, endovascular procedures and more.
"Our new cardiovascular surgery suite is an exciting advancement for both our Heart and Vascular Center and, most importantly, for our patients," said Scott Smith, CEO of NPMC. "Providing high quality heart care is a central piece of our mission of Making Communities Healthier, and this new suite greatly enhances our ability to deliver advanced care for patients close to home."
The surgical suite features all new equipment and technology, including high-resolution monitors that allow for improved visibility of the heart during surgery and continuous monitoring of the patient's vital signs. "Our cardiovascular surgery suite is equipped with the latest in cardiac operating room technology and is on par with the best surgical suites in the country," said Dr. Daniel McCoy, a cardiovascular and thoracic surgeon at NPMC. "Having enhanced visibility to view the pumping of the heart, identify any blockages and see inside the heart before and during the surgery improves our ability to achieve optimal patient outcomes. We are excited to take this next step to further improve the heart health of our region."
This project is part of Phase 2 of National Park Medical Center's Heart and Vascular Center expansion. It more than doubles the size of the cardiovascular surgery suite and storage area, while also adding more than 2,000 square feet to the surgery department as a whole for future growth and expansion. The Heart and Vascular Center, which opened in 2017, features three cardiac catheterization labs, cardiac nuclear medicine, a 12-bed pre- and post-procedure unit, eight-bed cardiovascular intensive care unit (ICU), Cardiac Rehab and Outpatient Therapy Center, and a 25-bed Emergency Department. The 67,000-square-foot facility is connected to the main NPMC campus.
One of the procedures being performed at NPMC's new CVOR suite is the ALTO® Abdominal Stent Graft System to treat patients with Abdominal Aortic Aneurysm (AAA). Dr. McCoy was the first in the central Arkansas region to perform the ALTO device implant and has now performed three at National Park Medical Center.
Abdominal aortic aneurysm (AAA) is an enlarged and weakened section, or "ballooning" of the aorta below the renal arteries that may require treatment to prevent it from bursting and causing serious internal bleeding. The aorta, which is the body's main artery, carries blood from the heart to the rest of the body. Patients diagnosed with a AAA can be treated with open surgical repair or via a less invasive Endovascular Aneurysm Repair (EVAR) like the ALTO® System. Fortunately, many patients benefit from minimally invasive (endovascular) repair of the aorta using special stents that create a new pathway for blood flow away from the aneurysm. Benefits of using the EVAR method as compared with the open method of AAA repair include a significantly smaller incision, shorter procedure time, decreased risk for complications, shorter hospital stay and shorter recovery time.
"This is an exciting advancement for the treatment of AAA in our region," said Dr. McCoy. "While we've been performing a similar implant for many years, this implant expands the indications for use, which ultimately means more patients who may be saved by the procedure." Featuring a unique sealing technology, ALTO is the latest generation of low-profile polymer-based therapies for AAA treatment, offered exclusively by the Endologix Corporation.
"I'm very pleased with the outcomes we've seen from the patients treated with the ALTO® system so far, and that's what expanding our healthcare technology offerings in the Hot Springs region is all about. We want to offer the latest technologies with the least invasive techniques and the best patient outcomes." said McCoy. "It's another advancement here at the Heart and Vascular Center at National Park Medical Center, and another reason to choose us for your family's heart care."
"If our neighbors are experiencing healthcare emergencies, have symptoms of a heart attack or stroke, or need preventive care or other important healthcare services, we are here and ready to serve them. Your health means everything, and it's very important not to delay getting the care you and your family need." said Smith. "Our hospital is safe as it always has been, and we continue to take an abundance of safety and infection prevention measures to keep it that way."
Read All Posts