National Park Medical Center Presents the 2021-2022 Sweetheart Class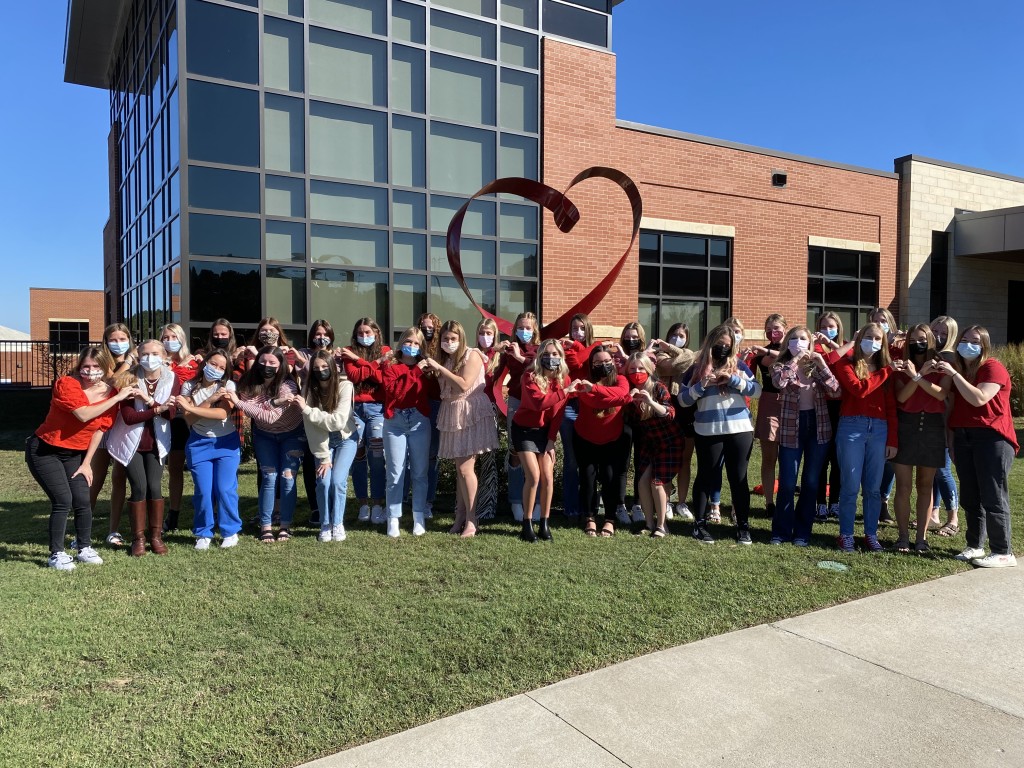 National Park Medical Center Presents the 2021-2022 Sweetheart Class
Thirty-five young women from the Garland County area were recently welcomed into the 2021/2022 American Heart Association (AHA) Hot Springs Sweetheart program, presented by National Park Medical Center (NPMC). This is the 16th year for the Hot Springs Sweetheart program.
"We are so proud to continue the legacy of this program," said Hot Springs Sweethearts founder and chair, Kathryn Russell. "Last year we made a lot of changes to the program for the health and safety of our sweethearts, and this year we will continue to make the well-being of our Sweethearts and our community our priority. We are so proud of their commitment to learning more about heart-healthy lifestyles, and I am grateful for our longstanding relationship with National Park Medical Center, and their commitment to the program, event amidst a global pandemic."
The Hot Springs Sweethearts are a group of high school sophomores & juniors who commit to learning about cardiovascular diseases and leading healthy lifestyles by participating in heart healthy activities from October through February. The program culminates with the introduction of the Sweethearts at the AHA Heart Ball. The Heart Ball is also sponsored by NPMC and will be chaired in 2022 by Dr. Eric and Lori Bowen. The 2022 Heart Ball is scheduled for February 5, 2022 at the Oaklawn Events Center at 2705 Central Avenue.
"The Hot Springs Sweethearts program is truly a passion project for us at NPMC," said Mandy Golleher, National Park Medical Center's director of communication and marketing. "Every year these young ladies dedicate a great deal of time and effort into learning more about heart disease and then carrying out heart healthy lifestyles. We have seen many young women leave this program with a passion for healthcare, some going into nursing school, radiology programs and even medical school. It is also our pleasure to continue our work with the Hot Springs Sweetheart founders, Paul Russell and Kathryn Russell, who pour their hearts and souls into the Sweethearts program every year to bring education and awareness to these young ladies against the number one killer among men and women – heart disease." The Russells began the Sweethearts program in 2006 in memory of their daughter, Caroline, who died at the age of two of a possible undetected heart condition.
Throughout the Sweetheart program, the young ladies participate in heart-healthy activities and educational opportunities, which include fundraising for the American Heart Association, volunteering for NPMC, certification in infant and adult CPR provided by NPMC, a cardiovascular exercise day with Amy Johnson at FBC Fitness, a tour of the NPMC Cardiac Cath Labs and Survival Flight Medical Helicopter, an educational course from LifeNet Emergency Medical Service, and a Father-Daughter Bar-b-que sponsored by Smokin' In Style. The Sweethearts will also attend a Mother/Daughter soiree sponsored by Lauray's the Diamond Center, where owner Toddy Pitard will present each sweetheart with a special piece of jewelry, and guest speaker Lauren English-Britton will share her personal story about living with a heart condition.
Sweethearts are also required to write an essay about cardiovascular disease, which is graded by an NPMC Cardiology Specialist. The official Sweetheart's photographer, Wonderlily and 25 Mockingbird Photography, will provide portraits of each of the Sweethearts. At the end of the five-month program, the Sweethearts perform a specially choreographed dance by Jessica Allen at the Heart Ball.
"Last year we learned how to use technology to further the Sweethearts' experiences through a "day in the life of a healthcare hero" virtual seminar series, which gave the Sweethearts more insight into the healthcare industry by featuring nurses from various specialties, radiology professionals and therapists. We have already hosted our first seminar for this year and look forward to continuing that practice," said Golleher. "The entire program is carries out our mission of Making Communities Healthier."
The one Sweetheart who demonstrates the most dedication to the program and the most knowledge of cardiovascular disease will receive the title of "Sweetheart of the Ball" at the Heart Ball, and will receive the $2,000 Caroline Grace Russell Memorial Scholarship paid to the school of the Sweetheart's choosing. The scholarship was established by the Russells to honor the memory of their daughter. She will also receive custom Sweetheart Jewelry designed by Lauray's—The Diamond Center. A Leadership award is also awarded, which includes a $500 scholarship given by Dr. Tim and Cindy English in honor of their daughter Lauren's involvement with the AHA. The very special Catie Cooper Spirit Award, created in memory of 2010 "forever sweetheart," Catie Cooper who was tragically lost during her tenure as a sweetheart, will also be awarded the night of the Heart Ball.
"I am so proud of the young ladies who have made commitments to both their personal heart health and to become life-long ambassadors for the AHA. The skills and information that they learn during this program last a lifetime and contributes not only to their own health, but also to the health of their families and friends," said Kathryn.
The 2021-2022 American Heart Association Sweethearts are Dakota Barker, Sabrina Bledsoe, Maddie Bratton, Brooklyn Braughton, Amelia Bridges, Annabelle Bridges, Charlotte Colgrove, Sela Cox, Audrey Divers, Lauren Foreman, Wini Formby, Piper Frisby, Olivia Godwin, Maddy Hamby, Sydney Hampton, Lexi Hardage, Ivey James, Aubrey Judd, Riley Kilby, Kenley Kincannon, Lucy LaDuke, Madi-Belle Landry, Haven Lockwood, Donna Logan, Baylee Lyles, Isabella McCarthy, Jamie McKuin, Olivia Pielemeier, Sheyla Praetzel, Emma Qualls, Molly Reeves, Skylar Smedley, Callie Summitt, Jillian Tankersley, Alexis Widener. For more information about the Hot Springs Sweethearts, email Russell at russell.kathryn70@gmail.com.
Read All Posts