National Park Medical Center Names 2022 Mercy Award Winner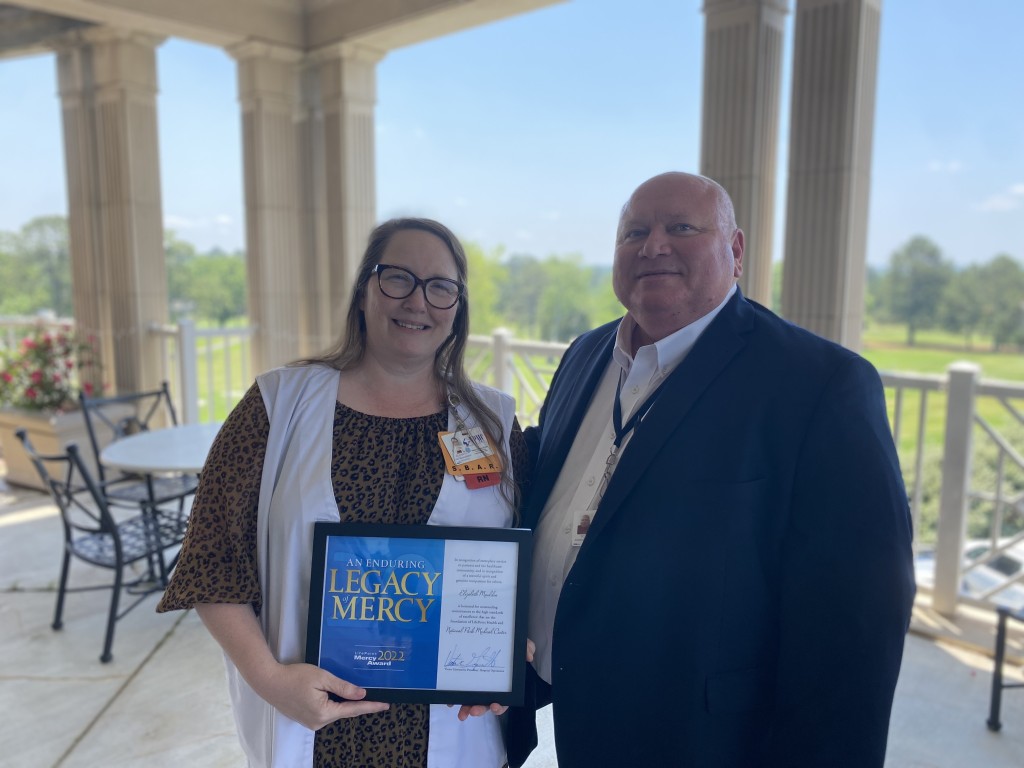 National Park Medical Center recently announced that Elizabeth "Liz" Mauldin has been recognized as the facility's 2022 Mercy Award winner. The Mercy Award recognizes one employee from each of LifePoint Health's facilities who profoundly touches the lives of others and best represents the spirit and values on which the company was founded. The award was presented to Mauldin at a recognition luncheon Thursday at Hot Springs Country Club.
The Mercy Award is an annual recognition program established in 2002 to honor the life and contributions of Scott Mercy, LifePoint's founding chairman and chief executive officer. The award is considered the highest honor a LifePoint employee can receive.
"At National Park Medical Center, we share LifePoint's commitment to making communities healthier, and we recognize this is supported by the good work and service of our employees on and off the job," said Scott Smith, CEO of National Park Medical Center. "We are extremely proud to recognize Liz Mauldin for her efforts on behalf of our patients and our community. She goes above and beyond each and every day to ensure that every person she encounters receives the highest level of care and compassion."
Liz has been serving patients at National Park Medical Center for 29 years, currently as an RN Case Manager in the Quality Department. She is a consistent advocate for our patients and for quality care. Liz is always looking for ways to best support our providers through education and data and working as a partner with them to constantly improve patient care.
Liz has a motto: "Meekness doesn't mean weakness." It's her way of saying that a person can be strong while also being humble and compassionate. That's how she lives her life at NPMC, at home and in our community. Liz is a behind-the-scenes warrior at NPMC, constantly working to improve the care we provide. She also works tirelessly in our community to help underserved families and does so in a way to not attract any attention to herself. From coordinating donations of semi-trucks with boxed food and gallons of milk to feed the food-insecure, to being a patrol leader in American Heritage Girls and Trail Life USA scouting, to her work with Celebrating Teachers and developing an afterschool program for Mountain Pine school district, Liz's volunteer work improves the lives of so many people in our area.
Each Lifepoint facility winner, including Liz, will be considered for LifePoint's 2022 companywide Mercy Award. The companywide winner will be announced this summer and honored during a ceremony in Nashville, Tenn., in August, to which Liz and all facility winners are invited to attend.
About National Park Medical Center
National Park Medical Center is a 163-bed full-service acute care hospital located in Hot Springs, Arkansas. Our mission is simple: Making Communities Healthier. We are a part of the LifePoint Health family of hospitals, which means we aim to create a place where people choose to come for healthcare, physicians want to practice, and employees want to work. Our core values are honesty, integrity & trustworthiness, inclusion, compassion and legal/ethical compliance. Our hospital's Joint Commission accreditation powerfully demonstrates our commitment to meeting the highest national standards for quality and safety.
Read All Posts