EXTRAORDINARY NURSE RECOGNIZED AT NATIONAL PARK MEDICAL CENTER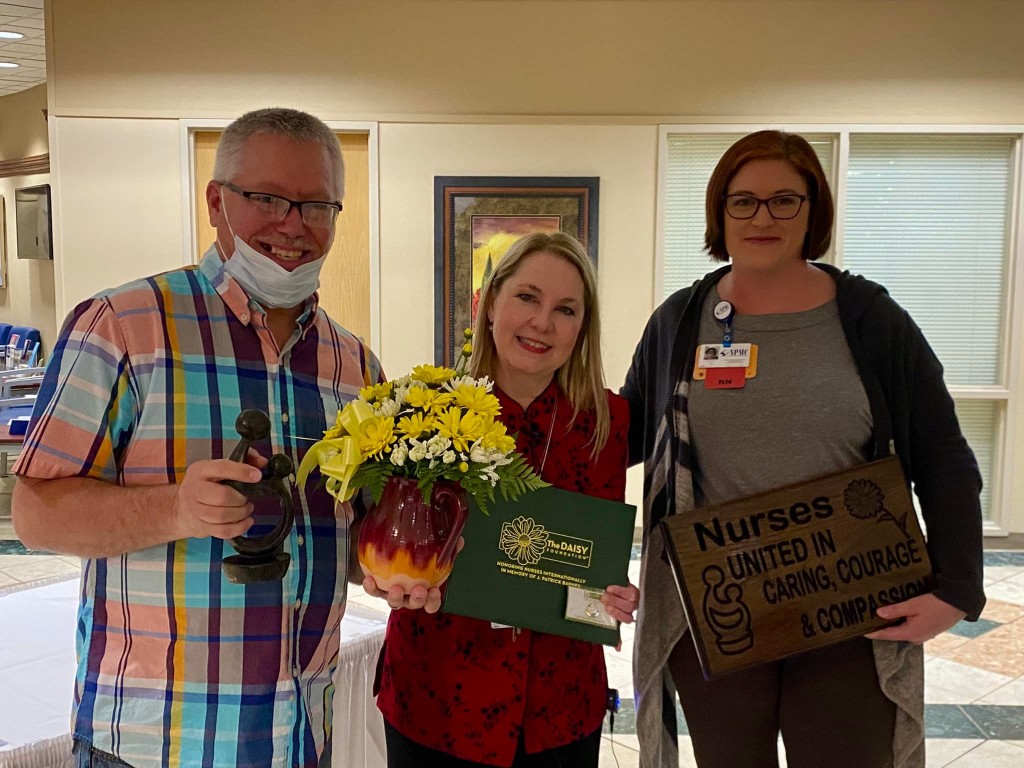 Sean Kennedy, RN, of National Park Medical Center's Med 2 unit was recently honored with The DAISY Award® For Extraordinary Nurses. The award is part of the DAISY Foundation's programs to recognize the super-human efforts nurses perform every day.
The nomination submitted described Sean as kind, compassionate, knowledgeable and "a sigh of relief" for his dedication to good communication. Additional honorees were Additional honorees are: Olivia Velasquez, RN, of Med 2; Linda Lee, LPN, of Med Surg; Sheri King, RN, of Med Surg; Leah McLain, RN, of Maternal Child; Tequilla Rivera, RN, of Senior Care.
The not-for-profit DAISY Foundation is based in Glen Ellen, CA, and was established by family members in memory of J. Patrick Barnes. Patrick died at the age of 33 in late 1999 from complications of Idiopathic Thrombocytopenic Purpura (ITP), a little known but not uncommon auto-immune disease. The care Patrick and his family received from nurses while he was ill inspired this unique means of thanking nurses for making a profound difference in the lives of their patients and patient families.
Said Chief Nursing Officer Lisa Wallace, "We are so proud of the work that our nurses perform daily at NPMC to fulfill our mission of Making Communities Healthier. We are also proud to recognize our nurses for their extraordinary care and their unique relationships with patients and families through our partnership with The DAISY Foundation. Sean Kennedy, RN, is an excellent representation of a DAISY nurse, evident by his dedication to the delivery of high quality, compassionate care, and his dedication to communication and teamwork with both his patients and his co-workers."
Said Bonnie Barnes, FAAN, Doctor of Humane Letters (h.c) and Co-Founder of The DAISY Foundation, "When Patrick was critically ill, our family experienced first-hand the remarkable skill and care nurses provide patients every day and night. Yet these unsung heroes are seldom recognized for the super-human work they do. The kind of work the nurses at National Park Medical Center are called on to do every day epitomizes the purpose of The DAISY Award."
For a complete listing of healthcare organizations currently running the program, please go to http://DAISYfoundation.org. In addition to the DAISY Award for Extraordinary Nurses, the Foundation expresses gratitude to the nursing profession internationally in over 5,000 healthcare facilities and schools of nursing with recognition of Nurse-led Teams, Nurse Leaders, Nurses Advancing Health Equity, Nursing Faculty, Nursing Students, Lifetime Achievement in Nursing and through the J. Patrick Barnes Grants for Nursing Research and Evidence-Based Practice Projects, Medical Mission Grants and their new Health Equity Grant programs. More information is available at http://DAISYfoundation.org.
About National Park Medical Center
National Park Medical Center is a 163-bed full-service acute care hospital located in Hot Springs, Arkansas. Our mission is simple: Making Communities Healthier. We are a part of the LifePoint Health family of hospitals, which means we aim to create a place where people choose to come for healthcare, physicians want to practice, and employees want to work. Our core values are honesty, integrity & trustworthiness, inclusion, compassion and legal/ethical compliance. Our hospital's Joint Commission accreditation powerfully demonstrates our commitment to meeting the highest national standards for quality and safety.
In Photo: DAISY Award Winner, Sean Kennedy, RN; NPMC Chief Nursing Officer, Lisa Wallace; NPMC Med 2 Nurse Leader, Hannah Fox, RN
Read All Posts