The Daisy Award – An Honor Reserved for Few Nurses, Deserved by All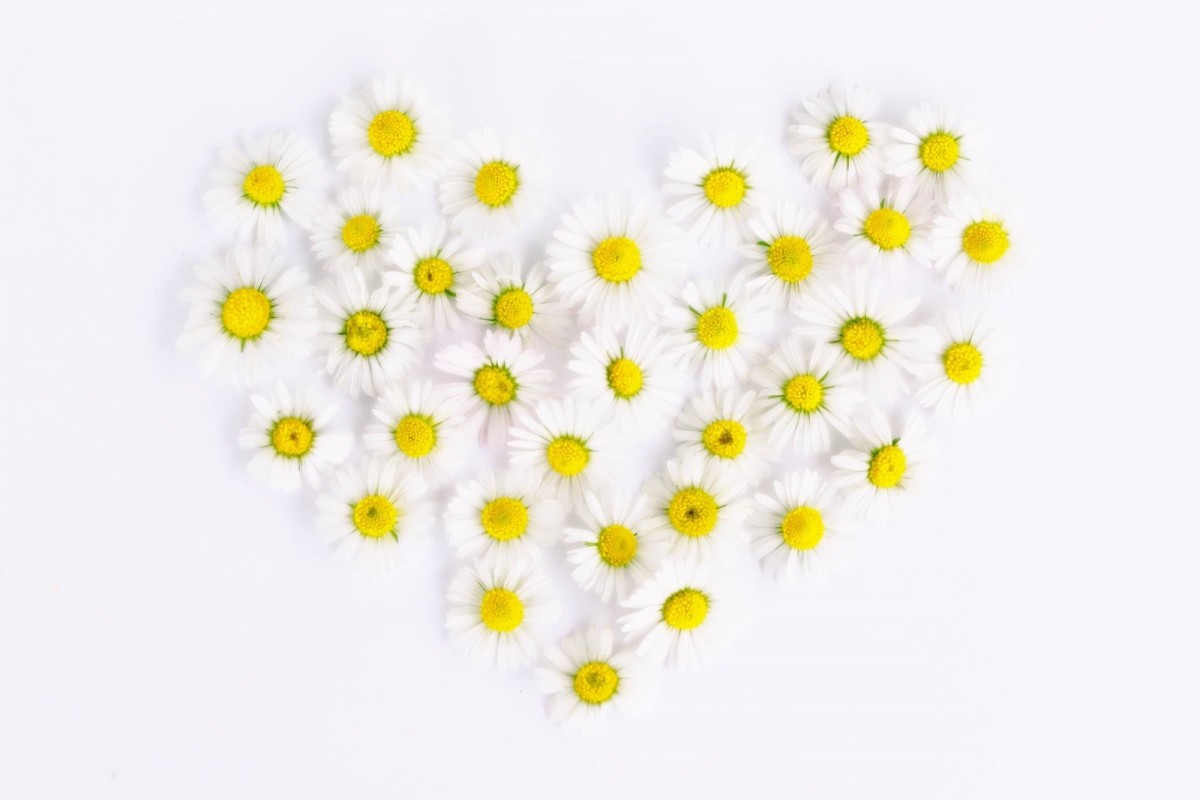 How do you let nurses know you appreciate them? Of course, you can thank them the same way you do anyone else - a card, a hug, a smile. But another very special way is by nominating them for The Daisy Award.
The DAISY Award is an international recognition program started in memory of J. Patrick Barnes, whose family experienced first-hand the difference his nurses made in his care.
Any patient who visits our hospital can nominate a nurse they feel provided them with care that went above and beyond the norm. Family members, friends, and staff who witness the care can also nominate simply by filling out Daisy Nomination Form online.
At NPMC the award is presented twice a year to one nurse who displayed exceptional care to patients. This year, the award was an historic one at NPMC, but before we reveal the winner, we would like to share the stories that earned several nurses nominations. The best way to understand the value of the Daisy Award is to hear the stories as told by those who experienced the care first-hand.
Helping Mothers Feel Seen and Heard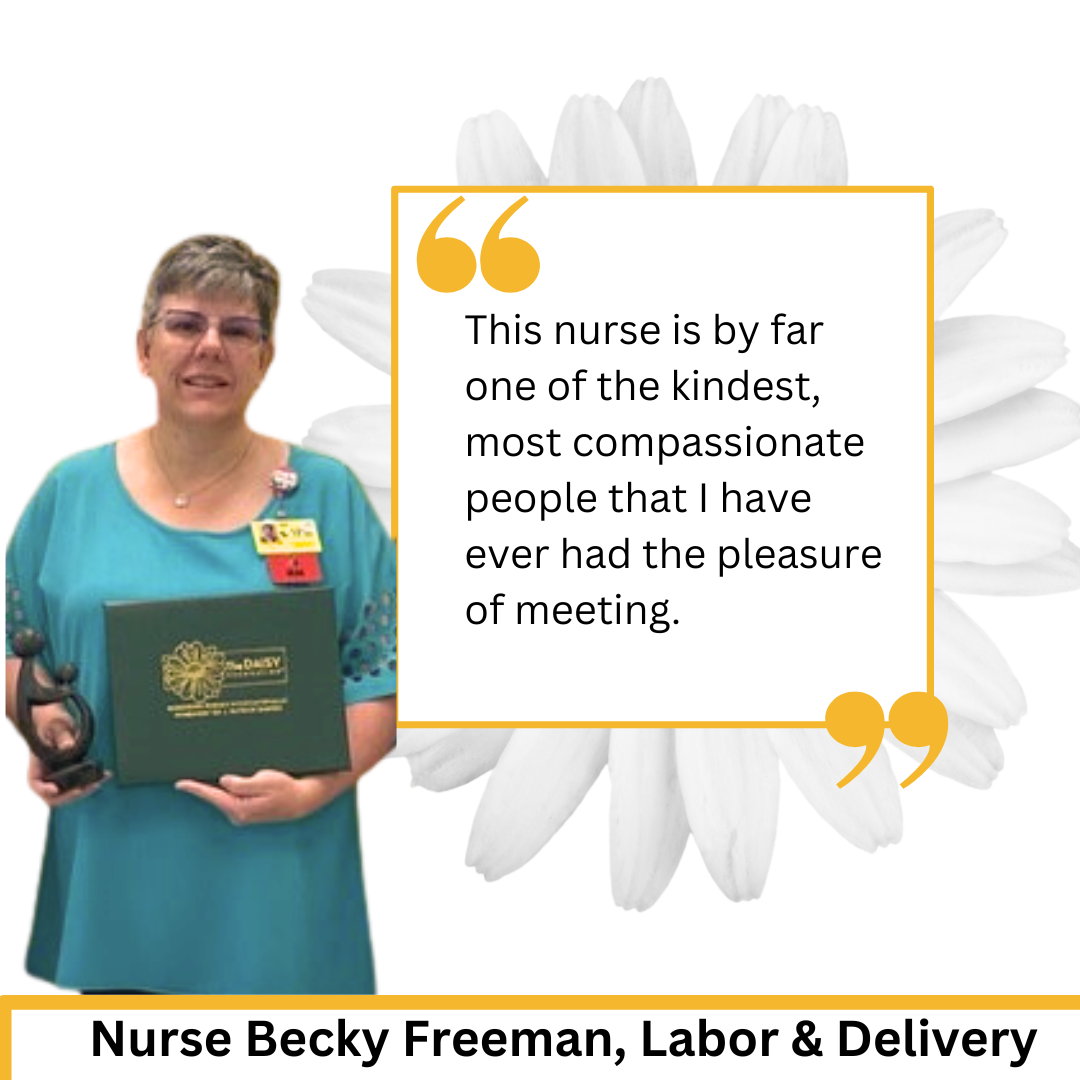 Nominee: Becky Freeman, Labor & Delivery Nurse | Nominated by: Patients
Patient #1:
"This nurse is by far one of the kindest, most compassionate people that I have ever had the pleasure of meeting. I came into Labor & Delivery to be evaluated, and I had to bring my 3-year-old daughter with me. I was strapped to monitors and was very limited . . . to care for my daughter. She was hungry and being a typical toddler. This nurse went out of her way to get her a snack and to help keep her calm. She even took her to use the restroom while I was hooked up and couldn't.
I gave birth this week and was lucky enough to have this nurse as one of mine on the last day here . . . You can tell she loves her job and does it with pride . . . By far the best experience I've had with hospital staff."
Patient #2:
"I had my very first baby here at National Park and can say I would recommend anyone here. This nurse was such an attentive and caring nurse. She made sure I had everything I needed. She checked on me and made me feel seen and heard . . . This nurse felt like family."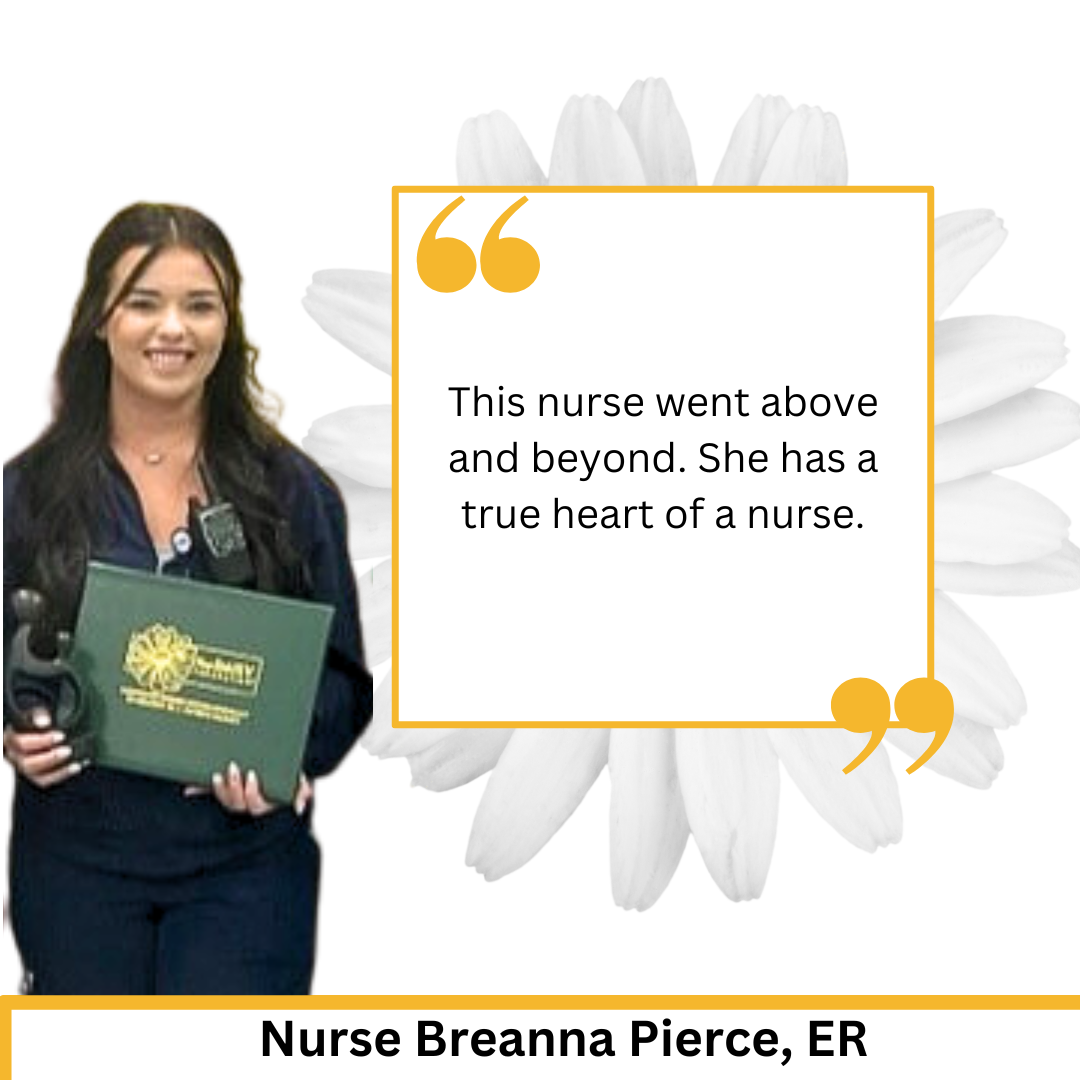 The True Heart of a Nurse
Nominee: Breanna Pierce, ER Nurse | Nominated by: Coworker
"A patient was diagnosed with possible cancer and surgery was scheduled for the next day. The patient started crying. Breanna sat for 15 minutes listening to her. The patient needed a phone charger to talk to her son and facetime him before surgery. It was her only wish. Breanna went to Dollar General on her break and bought her a phone charger . . . The patient had cancer in the past and was several hours away from her family and didn't have any support with her. But this nurse went above and beyond, listening to the patient's desires and spending her break and personal money to make this patient's wish come true that night. She has a true heart of a nurse."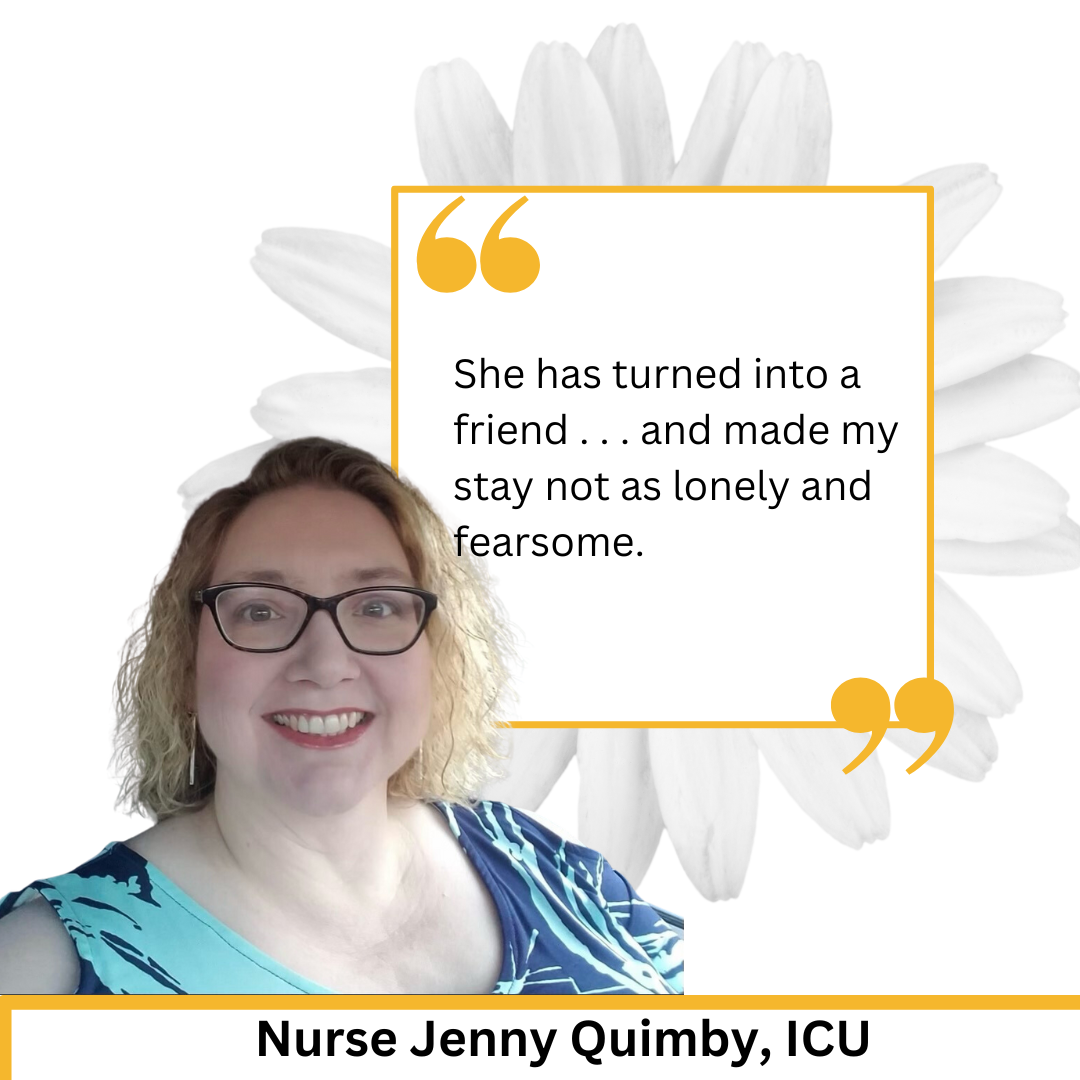 A Friend When You Need It
Nominee: Jenny Quimby, ICU Nurse | Nominated by: Patient
"I'm a 79-year-old patient at NPMC and I had triple bypass surgery. This nurse . . . waited on me and tended to all my needs without fail the whole time. We talked to each other, and, to me, she has turned into a friend . . . She has made my stay not as lonely and fearsome. I can ask her to do something, and she does her very best to do it."
A Shining Light
Nominee: Linda Booker, Nursery Nurse | Nominated by: Patient
"My wife came into Labor and Delivery to have our fifth child. We got there on a Monday morning but didn't have our baby until Wednesday. During the last hour of labor . . . I began to go into a panic when I saw the baby's vitals drop . . . This nurse looked at me and said, "Dad, pull out your camera and get this picture!" She directed me and kept me laughing. After everything, she continued to be the person I looked forward to seeing. Compassionate, caring, thoughtful, and witty . . . This nurse has been a shining light.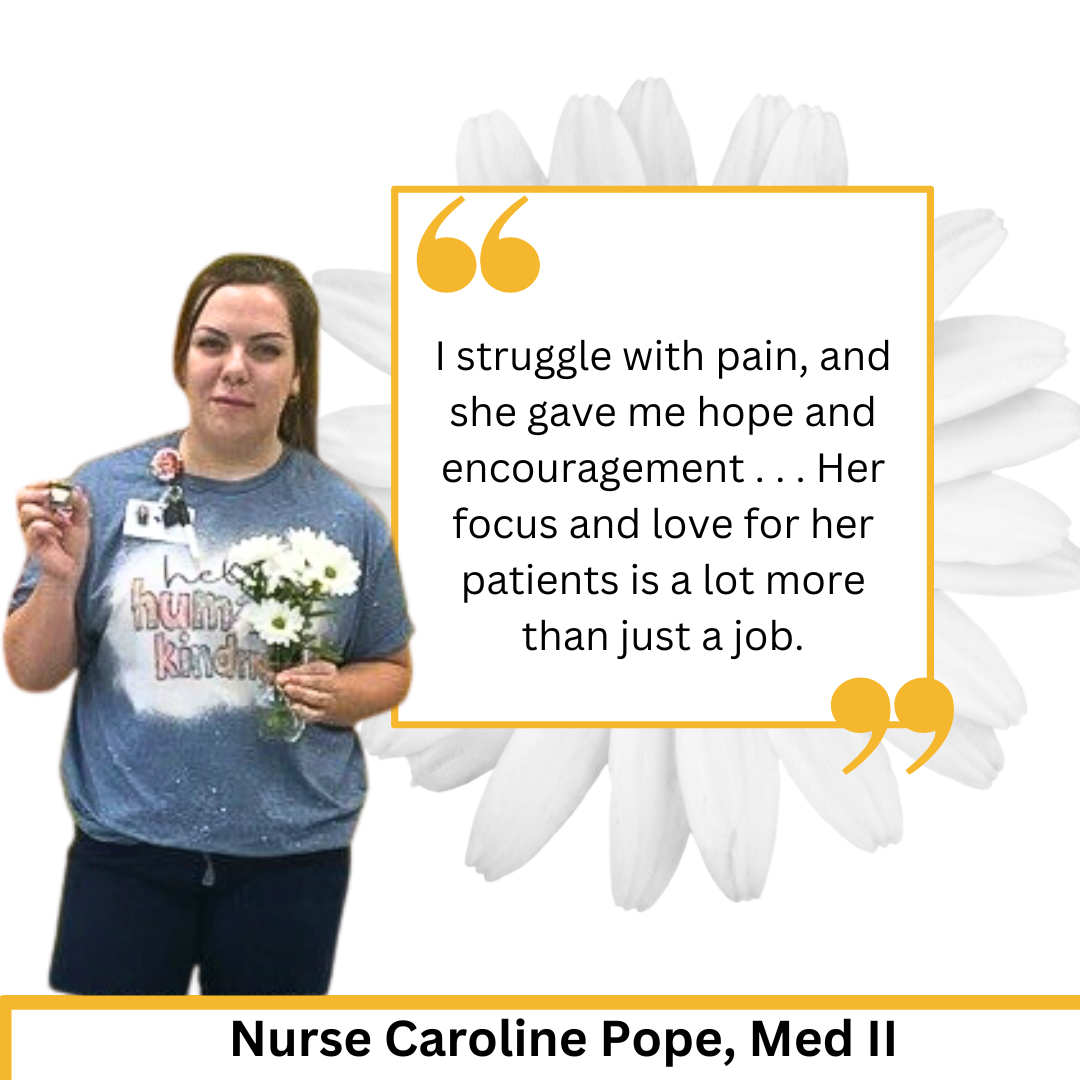 The Value of Hope, Encouragement, and a Smile
Caroline Pope, Med 2 Nurse | Nominated by: Patient
"This lady filled my heart the day I met her . . . She was very respectful, sweet, and caring to me and my family. She explained all my concerns. She loves her work, always has a smile on her face, was always checking on me and making sure everything was OK . . . I struggle with pain, and she gave me hope and encouragement . . . Her focus and love for her patients is a lot more than just a job."
And the Winner Is . . .
After reading these, hopefully it's easy to see that selecting a Daisy winner among the nominations wasn't an easy task for NPMC administration. In fact, this Daisy award would prove historic because there wasn't just one winner, there were two. It was a tie!
The winners of the Daisy Award were both Becky Freeman, from Labor and Delivery, and Breana Pierce, from the ER, for their exceptional service during their patients' care journeys.
These stories illustrate the meaningful encounters nurses have every day with members of our community during some of their hardest, scariest life events. Some patients are alone, others are afraid, and most are anxious, and nurses experience these emotions right alongside them. Despite the emotional strain it can take, and despite that sometimes nurses can be underappreciated, they persist. They do what they do because they love helping others. That's what's at the core of a nurse – a desire to serve. And it is for these reasons and more that we choose to honor them with the Daisy Award.
Read All Posts